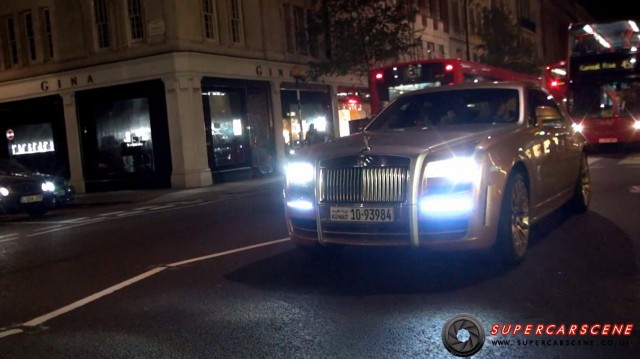 The Rolls-Royce Ghost. A car that represents class, style and elegance all in a smaller package than its older brother, the titanic Phantom. The Ghost is so good at being an ultra luxury limousine, it even replaced non other that Lord Alan Sugars Phantom!
Arabs love their supercars and love even more to put on a show. Tuning cars, therefore, is a given as options to make cars really stand out that are simply not available from manufactures. In this case a Kuwaiti owner drafted in help from Swiss tuners Mansory. The body kit they have fitted is remarkable!
[youtube]http://youtu.be/_S80ae6DCMc[/youtube]
The LED lights shine bright and the larger air intakes and ducts ahead of the front wheels really give the Ghost a touch aggression that was absent from the standard car. Body kit aside, one this about this car makes it stand head and shoulders above the dull dark coloured Rolls-Royce's in London. This Ghost has been painted gold, nothing out of the ordinary, but it the gold and shavings of real gold! We cannot imagine the cost but we can see how beautifully the flakes shimmer and shine even under the artificial shop lighting on Sloane Street, Knightbridge.
What do you think, a tastefully modified Ghost or close to overkill?
Mansory Ghost at the 2010 Geneva Motor Show