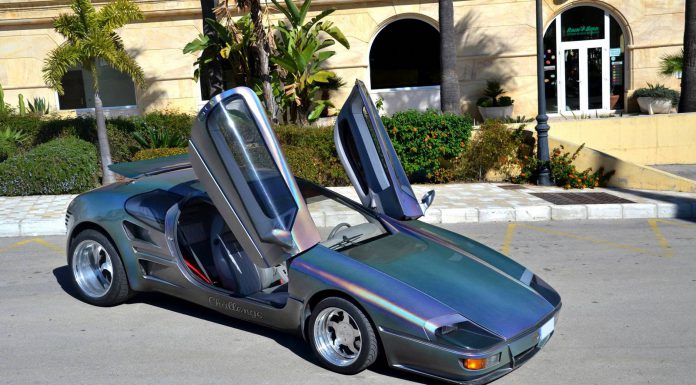 Supergarage have an interesting item up for sale in Marbella. Its a 1988 Sbarro Challenge III, chasis number 007 and one of just 10 limited production copies.
The base is a 1988 Porsche 911 Carrera with a 3.3 litre engine. It has a five-speed gearbox which puts 400 hp down to the rear wheels. The front gets air suspension and 17 inch wheels at the front and 19 inch wheels at the back. The rear has a set of air brakes to provide extra drag when stopping from high speeds.
The design is unique. It is the ultimate road-going production wedge design of the 1980's. The low front end and wedge shaped design means that it has a low-drag co efficient of just 0.26. Unique features include the windscreen which can move forward and act as a sunroof and the wipers which work on rotation.
Originally the Sparro Challenge III came with cameras fitted in place of side view mirrors, this car appears to have had side mirrors added. Other options fitted to the car include a reversing camera, video VHS, a telephone, radio cassette and a Prototype Alpine CD sound system. Photos were shot by Cayuela Photography.