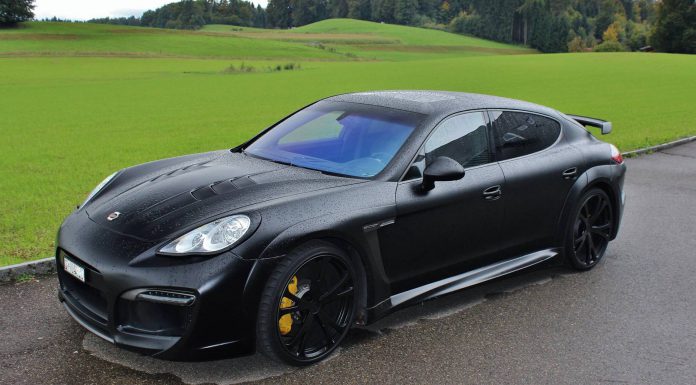 A stunning matte black 2013 TechArt GrandGT was recently spotted was recently spotted in Switzerland with all the goodies that help seperate the GrandGT from the regular Porsche Panamera.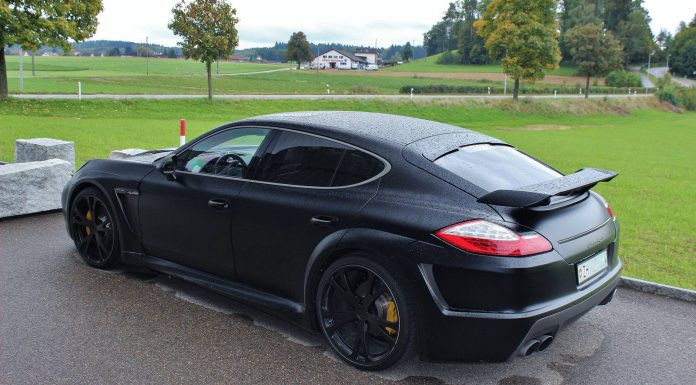 Similar to the recently released 2014 TechArt GrandGT, this previous-generation Panamera based GrandGT features a host of upgrades. From a visual standpoint, the 2014 TechArt GrandGT aerodynamic kit consists of a completely new front apron with integrated splitter and large air intakes. These larger intakes dramatically help airflow through the brakes. Joining the new front apron are the TechArt Multifunctional Daytime Running Light System which combines daytime running lights, navigation lights, parking lighter and indicators all in one housing.
From the rear, the 2014 TechArt GrandGT includes the TechArt rear spoiler III as well as a TechArt roof spoiler. Additionally, the TechArt GrandGT then incorporates a new rear bumper as well as dual oval exhaust pipes as part of the TechArt sports exhaust system.