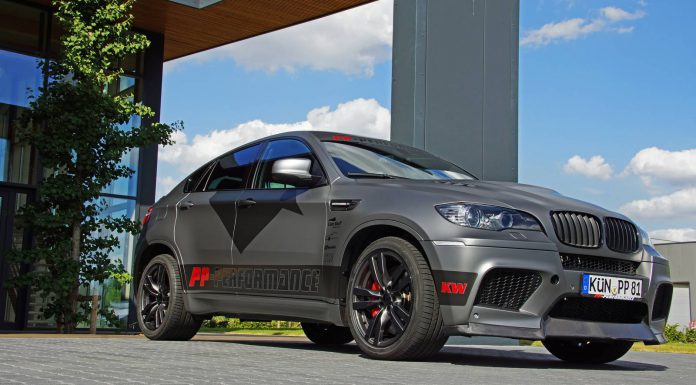 The BMW X6M is mammoth beast of a car, the body of Goliath and the power of Thor. Not aggressive enough? We might just have the tuning package and finish for you. PP-Performance & Cam Shaft Wrapping have created a monster X6M that brings together both companies expertise to create the car see before your. CAM SHAFT, that wrapped this awesome Porsche GT3, has wrapped a BMW X6M into typical for BMW colors: Frozen anthracite matte metallic in combination with diamond black mat metallic. With the unmistakeable characteristics in front, doors and tail, this BMW makes a impression everywhere it goes. The price for wrapping is 2,450.00 Euro.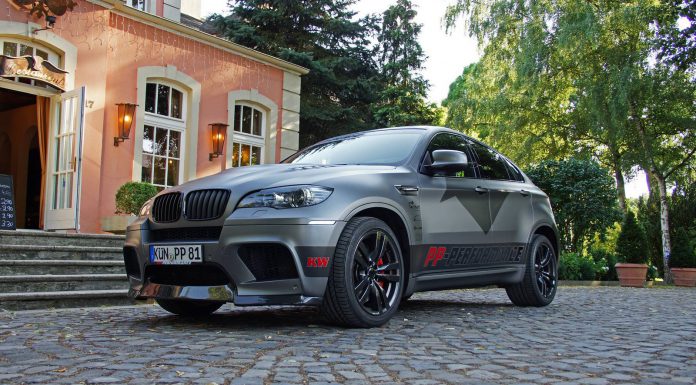 Previously, PP-Performance in Weissbach on the Swabian Weinstrasse had already tinkered with the X6M to vastly improve the epic performance. The installed manifolds and down pipes with racing cats, resulting in an even naughtier exhaust note, as well as the optimization of the manufacturer delivered software gives the car an output of 710bhp, more than a Lamborghini Aventador, and a blistering 1,000 Nm of torque, frankly astronomical figures. For the performance increase named Stage 3 are charged 16,600 Euro including MOT certificate and mounting.
Furthermore the two companies worked hand in hand and installed Voersteiner carbon parts. The car has been equipped with a carbon hood and a carbon front spoiler that is follow the identical dimension of the original X6M front bumper, a carbon tail spoiler and a diffuser, also all expertly crafted from carbon fiber.
To compliment the visual changes a new variant of rim design the rim tuning team of the Krefeld AG-Felgenveredelung. The original BMW M-rims are now presented in gold carbon, paired with glossy graphite metallic. The exclusive two color rim finishing costs another 1,400 Euro including VAT.