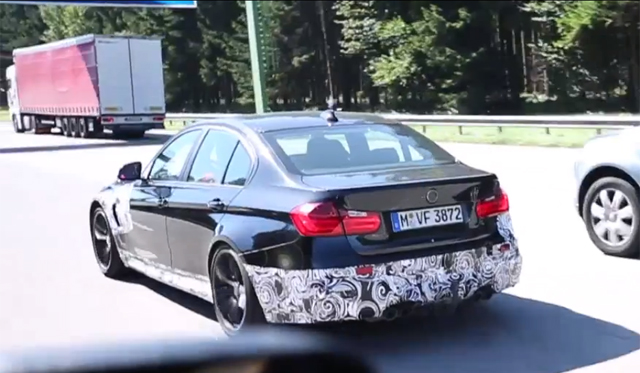 The upcoming 2014 BMW M3 was recently filmed on the move on a highway by the team at AutoEmotionenTV and while the video has no sound, it does give us our clearest look at the upcoming sports-sedan driving thus far.
Just as previous 2014 BMW M3 prototypes have shown, the following car is sporting much more aggressive bodywork as well as features quite similar to those found on the BMW M4 Coupe Concept revealed early last month.
[youtube]http://www.youtube.com/watch?v=fFXUPCCz7Es[/youtube]
Reports recently emerged that the upcoming 2014 BMW M4 Coupe, which is essentially the same as the new BMW M3 in question but with two fewer doors, won't be offered with a manual transmission. Instead, BMW will only offer a dual-clutch transmission (DCT). Such a decision by BMW is quite upsetting. It's an example of current times where manual car sales make up a very small percentage of overall car sales. Additionally, such a move is similar to Ferrari stopping production of all manual vehicles and Porsche not offering the once completely driver focused 911 GT3 with a stick shift.
2014 BMW M4 Coupe Concept

With the 2014 BMW M3 arguably being more of a daily driver for the family than the M4, it too will likely lose the option of a good 'ole stick shift.
Under the hood, the 2014 BMW M3 should feature the same 3.0-liter turbocharged six-cylinder engine of the BMW M4 delivering around 450hp. BMW will also focus on reducing the car's overall weight.