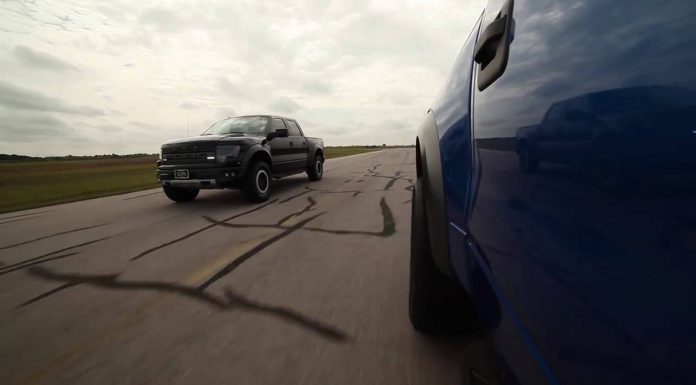 Tunning company Hennessey are world famous for building some of the most outrageously powerful and turbocharged supercars, including the Hennessey Venom that might just be the fastest car in the world. But aside from the supercars such as the McLaren 12C, Hennessey has been working on a beast of a vehicle that might not be the first car you think would be on their list of potential things to tune! The 2013 Ford Raptor!
[youtube]http://www.youtube.com/watch?v=rbBFxSVNoao[/youtube]
The VelociRaptor 600 Supercharged upgrade includes centrifugal supercharger system, air-to-air intercooler, high flow K&N air filter, fuel injector upgrade, stainless steel long tube headers, high flow catalytic converters and a stainless steel cat-back exhaust
Fitted with the supercharger, the VelociRaptor 600 matches the power of a Mercedes-Benz G65 AMG which has 604hp. It will do a 0-97km/h in 5.9 seconds.
Hennessey have released a video of their tuned beast being raced again the stock Raptor and the results are epic! Enjoy.