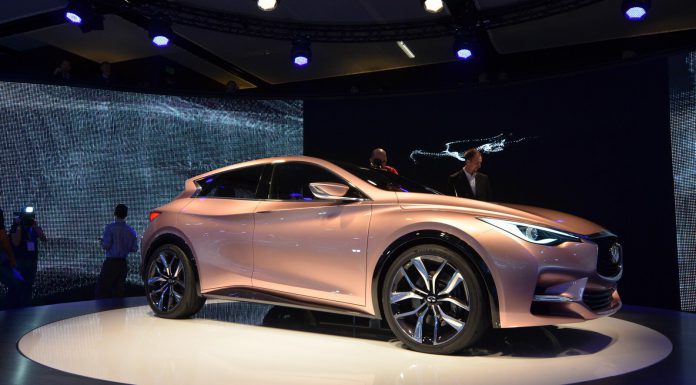 Infiniti have a world premiere on display at the IAA Frankfurt Motor Show 2013. It's called the Infiniti Q30 Concept and it aims to compete with the current crop of compact crossovers including the Audi Q3 and the new Mercedes-Benz GLA-Class. The Infiniti Q30 continues Infiniti's push into the European market, we took a closer look at it on the stand!
The Infiniti Q30 is expected to debut in production form as a 2015 model year car with production taking place in the UK. It aims to blend the design of a coupe with the interior space of a hatch and the higher stance of a crossover. It is expect to use the Mercedes MFA platform that has already proved a success in the A-Class and B-Class models. It should also get a variety of Mercedes-Benz sourced engines.
The Infiniti Q30 retains much of the Infiniti design language. It has a highly stylised front grille with its distinctive mesh and central Infiniti logo. A wavy design line runs along the entire length of the vehicle at mid height dictating a high front stance and a lower, more muscular rear hip line. The Q30 will undoubtedly bolster Infiniti's design, material, fit and finish, craftsmanship and performance credentials.