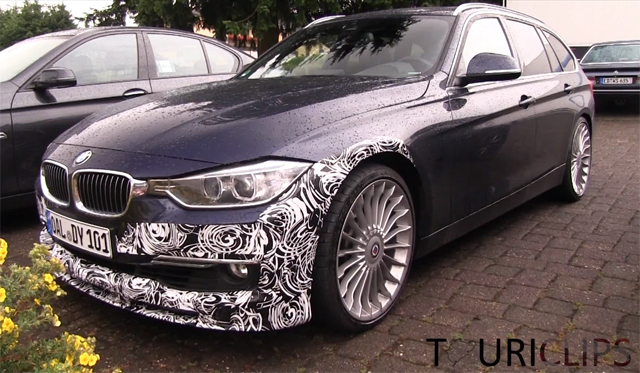 Two new Alpina models were recently spotted testing side-by-side at the infamous Nurburgring. They were the 2014 Alpina B3 Biturbo Saloon and the 2014 BMW D3 Touring.
Under the hood, the 2014 Alpina B3 Biturbo Saloon is expected to feature the same engine as the current Alpina B3 Biturbo. That means a twin-turbocharged straight-six cylinder engine delivering a total of 404hp and 443lb-ft of torque. The current Alpina B3 Biturbo also includes Alpina sports suspension and an 8-speed sport-automatic transmission with Alpina switch-tronic systems and these too are likely to be utilised on the upcoming 2014 Alpina B3 Biturbo Saloon.
[youtube]http://www.youtube.com/watch?v=RHdcGuKEJ1I#t=72[/youtube]
In the outgoing Alpina B3 BiTurbo guise, that powertrain can send the car to 100km/h in just 4.2 seconds and a top speed of 305km/h, or 190mph.
The 2014 Alpina D3 Touring on the other hand, will feature a diesel engine possibly featuring the same 3.0-liter displacement and six-cylinder configuration as the B3. As the following video shows, both cars were spotted almost completely undisguised.
Before the 2014 Alpina B3 Biturbo Saloon and D3 Touring are released, the range-topping Alpina B6 Gran Coupe will hit the market. The 2014 Alpina B6 Gran Coupe BiTurbo will feature a 4.4-liter twin-turbocharged V8 engine pumping out an impressive 532hp and an incredible 538lb-ft of torque. However, some reports suggest that the car could receive as much as 550hp. Either way, the Alpina B6 will be significantly more powerful than the regular BMW 650i it's based on which only delivers 450hp and 479lb-ft of torque.