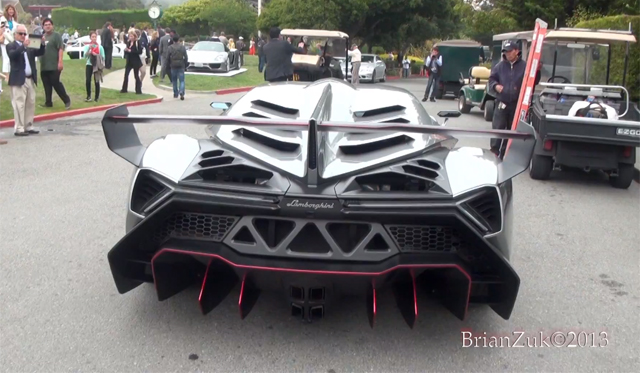 During the ongoing Monterey Car Week 2013, the Lamborghini Veneno was filmed by BrianZuk driving on the road for the very first time and as we've previously heard, the insane 6.5-liter V12 growl produced by the Lamborghini Veneno is insane!
Its design is consistently focused on optimum aerodynamics and cornering stability, giving the Veneno the real dynamic experience of a racing prototype, yet it is fully homologated for the road. With a maximum output of 750 hp, the Lamborghini Veneno accelerates from 0 to 100 km/h in just 2.8 seconds and the top speed for this street-legal racing car stands at 355 km/h.
The Lamborghini Veneno features a twelve-cylinder power unit with a displacement of 6.5 liters, an extremely fast-shifting 7-speed ISR transmission with 5 driving modes and permanent all-wheel drive, as well as a racing chassis with pushrod suspension and horizontal spring/damper units.
Above all, however, the Veneno benefits from the very special expertise that Automobili Lamborghini possesses in the development and execution of carbon-fiber materials – the complete chassis is produced as a CFRP monocoque, as is the outer skin of this extreme sports car. The inside, too, features innovative, Lamborghini-patented materials such as Forged Composite and CarbonSkin.
Fully in keeping with the tradition of the brand, the name of the Veneno originates from a legendary fighting bull.