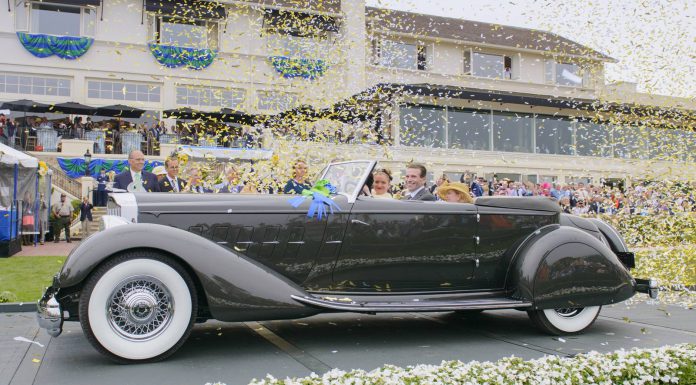 The award for Best In Show at the recently concluded Pebble Beach Concours d'Elegance 2013 went to a rare 1934 Packard 1108 Twelve Dietrich Convertible Victoria. If you can get your head around the seemingly never-ending name, the custom convertible was competing against a large selection of other notable cars and winning Best In Show at such an historic event is definitely something for owners Joseph and Margie Cassini to remember!
This particular car has been modified thanks to coachbuilder Dietrich who stretched the fenders and closed the rear. Under the hood, the 1934 Packard 1108 Twelve Dietrich Convertible Victoria is powered by a V12 engine delivering around 150hp.
Last year, a similar 1934 Packard Victoria Convertible customised by Dietrich fetched $2.2 million during an RM Auction last year, but thanks to this prestigious award, it's likely that if the owners ever decide to part ways with this prized automobile and now awarded-winner, a price well in excess of $2.2 million would be achievable!
The owner, Joseph Cassini a New Jersey Superior Court judge, bought the car in 2010 as a rusted shell. He explains; "It was purchased originally in New York by a Mr. Ricardo Lacosta, a lawyer from Puerto Rico. He had it shipped there and it was in his ownership, and then his family's ownership, for many years. But it eventually was turned into a taxi. It was painted red and orange, probably with a paint brush, and driven all over Puerto Rico for many years.".
The car was then purchased by a serviceman, bought back to the US and changed hands several times before finding Cassini and the team at RM Restorations. Cassini won the Pebble Beach best in show award back in 2004 with a 1938 Horch 853A Cabriolet.