Just after we brought you the sad yet somewhat humerous news that a Porsche 997 911 GT3 had been crashed during a test drive, a 2013 Aston Martin Rapide S recently suffered a similar fate in Kuala Lumpur. However, this time it wasn't a potential customer driving the British luxury sedan, and instead an employee from Aston Martin Kuala Lumpur.
The crash reportedly occurred at around 6:35pm on the 10th of August, 2013 and surprisingly, the Aston Martin employee was completely at fault. The incident took place when the 2013 Aston Martin Rapide S driver sped up to avoid a parked car on the road. However, the Aston Martin employee failed to notice another car pulling out in front of him and joining the same lane. The driver then panicked, and steered right into the curb, a tree and a lamppost.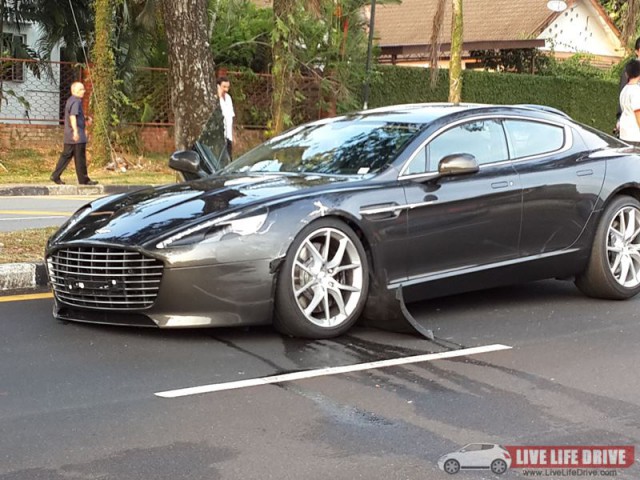 The crash occurred outside a church and based on the damage suffered to the 2013 Aston Martin Rapide S, it's obvious the car was travelling at quite a speed with the front right wheel being completely torn from the car. Making the crash all the more bizarre is the fact that the Rapide S has numerous safety systems on board to avoid such incidents. These include anti-locking brakes, Electronic Brakeforce Distribution, Emergency Brake Assist and massive brake discs and calipers.
[Via: Live Life Drive]