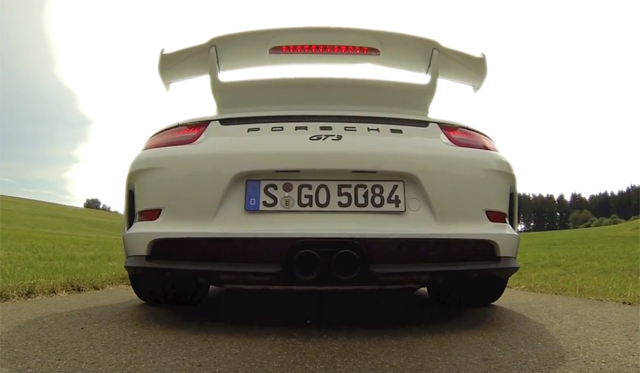 The team at Motorsport Magazine recently tested the brand new 2014 Porsche 911 GT3 and filmed an exciting 0-200km/h run and as you'd expect from any GT3 of any 911-generation, it's extremely exciting and of course, very, very fast!
The 2014 Porsche 911 GT3 receives a 3.8-litre flat engine developing 475hp at 8,250 rpm. This powertrain is similar to the engine found in the base Porsche 911 Carrera, but shares just a few components with that system. The engine weighs around 25 kg less than the previous unit with a power output of 125 hp/litre of displacement.
The GT3 features new cylinder heads with larger intake and exhaust ports, large valves, and separate valve control with rocker arm. Additionally, it includes valve actuation via rocker arms with hydraulic valve clearance compensation. The crankshaft and valve train, were also specially adapted or developed for the GT3 and the car also uses titanium connecting rods attached to forged pistons. When it's all said and done, the 2014 Porsche 911 GT3 can hit 100km/h in just 3.5 seconds, 200km/h in less than 12 seconds with the car maxing out at an impressive 314km/h. In the following video however, the driver gets nowhere near the 3.5 seconds mark to 100km/h.
While we've yet to get our hands on the 2014 Porsche 911 GT3, by all accounts it's a serious performance machine!