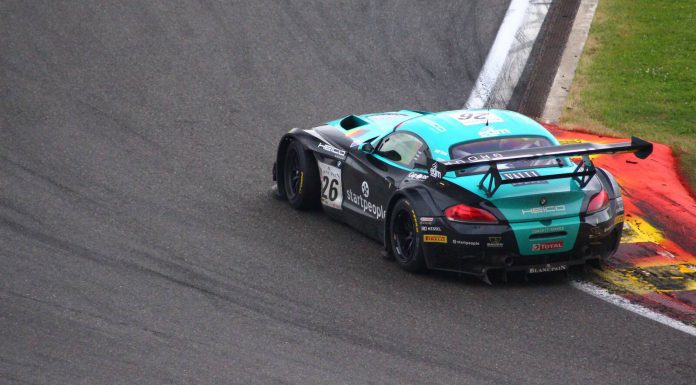 As I write, the safety car has frozen the action after the number 50 car binned it at Eau Rouge. Although that isn't quite the full picture. The screens reveal that the number 16 Audi R8 LMS Ultra and the number 17 Ferrari 458 Italia had a slight coming together about 20 minutes into the safety car period. Slow-mo replay confirms it is the worst crash of the race.
Elsewhere, things are plodding along nicely. The battle between the number 84 Mercedes-Benz SLS AMG GT3 and the number 150 Porsche 997 GT3 R continues to deceive. The pit boards show that the SLS has the lead by an entire lap, however, we suspect this might be down to off-sync pit stop strategies. It's a close one, too close to call right now! Although the Porsche has had a drive through penalty imposed upon it, it remains only 1 lap down with the nearest competition, the number 44 Ferrari 458 Italia.
The McLaren's are placed 13th and and 18th at the moment, with the Von Ryan number 88 car performing the best. The Gulf car has been impressive too, holding its own among stiff competition. The Von Ryan car is 19 laps off the pace with Rob Barff at the wheel, Senna has just taken over control. The Gulf car has a 22 lap deficit. Both look good to finish.