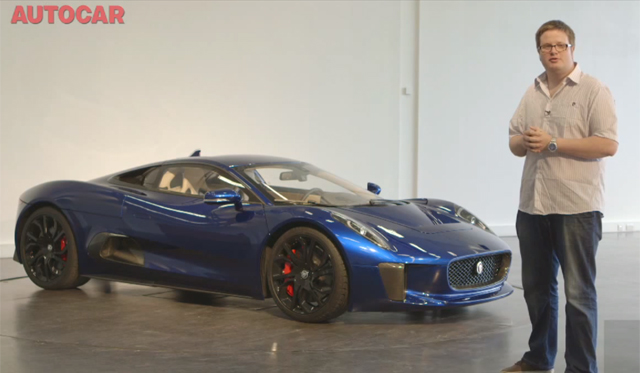 Despite Jaguar revealing that it had scrapped the Jaguar C-X75 hypercar for production a few months back, Autocar was fortunate to get behind the wheel of a Jaguar C-X75 prototype on the track to see just how this advanced British hypercar performs in development trim.
Prior to Jaguar cancelling production, the Jaguar C-X75 was pinned to be a fierce rival for the Porsche 918 Spyder, Ferrari LaFerrari and McLaren P1. The original Jaguar C-X75 Concept revealed at the 2010 Paris Motor Show featured a twin gas-turbine engine and even though this powertrain was originally scrapped for production, the 1.6 liter, twin-charged engine set to replace it could have produced up to 500hp revving to 10,000rpm then joined by a duo of electric motors delivering an additional 390hp.
Thanks to the lightweight, bonded carbon fiber chassis co-developed with Williams Formula One, Jaguar hoped the C-X75 could reach 100km/h in less than three seconds hit a top speed of over 200mph and therefore become a true competitor to the Porsche 918 Spyder, Ferrari F70 and McLaren P1.
Upon confirming the cancellation of the Jaguar C-X75, Jaguar's Global brand director, Adrian Hallmark confirmed that five prototypes will continue to be developed with certain technologies to survive into future Jaguar models. Three of these will go up for auction, one will be stored in a future Jaguar museum and the final unit will be used by the company for rolling demonstrations.