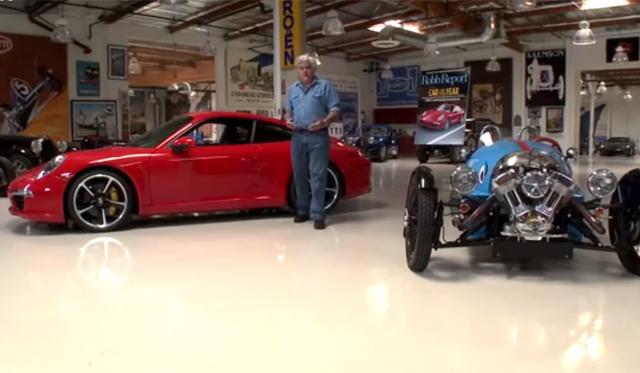 American talk show host Jay Leno was recently given the opportunity to drive the brand new 2013 Porsche 911 Carrera S which Robb Report recently named its Car of the Year. Additionally, in the following clip, Jay Leno gets the chance to drive the unique Morgan 3 Wheeler which actually came last in Robb Report's group Car of the Year test!
Powering the 2013 Porsche 991 911 Carrera S is a 3.8-liter flat-six engine featuring direct injection and managing to produce 400hp. The potent powerplant can then be mated with Porsche's advanced PDK gearbox which can help rocket the rear-wheel drive 2013 Porsche 911 Carrera S to 60mph in just 4.3 seconds. When fitted with the Sport Chrono Package, that sprint time is reduced to an even more impressive 4.1 seconds.
For the Morgan 3 Wheeler, the basic setup is a super lightweight construction with a 56-degree V-twin motorcycle engine up front. Originally the power was intended to come from Harley Davidson, but the U.S. business unit of the motorcycle maker decided otherwise. So Morgan changed their supplier to S&S, a Wisconsin-based Harley-Davidson tuner extraordinaire. The engine is closely based on the X-Wedge V-twins they produce for Harley-Davidson. The two-valve, fuel-injected unit punches out 115hp and 135Nm of torque with peak revs at 5,200rpm. The sub-500kg kerb weight allows the 3 Wheeler to reach 100km/h in around 4.5 seconds.