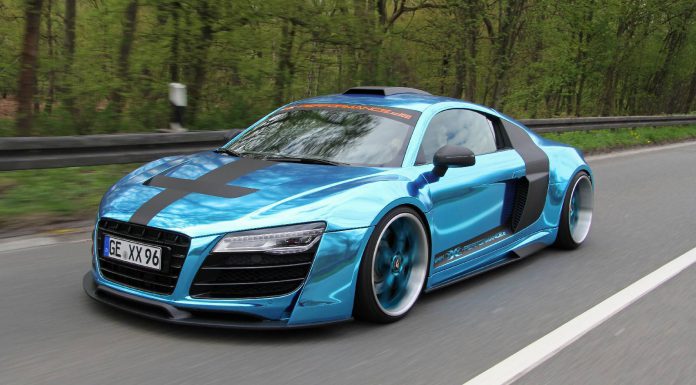 Based in Bochum, Germany XXX-Performance showed us their conversion package for the Audi R8 in a green wrap and sitting on Oxigin Wheels. Recently, they worked on a new conversion kit for the same car, this time in blue chrome and dubbed the GT-X650. The difference between it and the earlier one is that this comes as a wide body package.
The GT-X650 which also comes in a GT-X600 variant features new air inlets in the front and rear mudguards not to mention the front and rear aprons matched by side skirts and V10 side blades. The external rear view mirror, roof scoops, side blades and rear diffusers can be offered in pure carbon fiber or coated with carbon fiber. The external is a CFC chrome wrap but the extra stance is added through the Audi Plus full LED headlamps and tail lights.
The suspension system is treated to H&R coilover kit that was converted by XXX-Performance from steel springs to air bellows. The ride height can be adjusted at any given time, the car rides on 20 inch Forgiato GTR forged wheels in 3-piece design and wrapped with Hankook tires. The car's output is 650hp with the GT-X650 kit and 600hp with the GT-X600 kit, this was achieved through chip tuning and other modifications.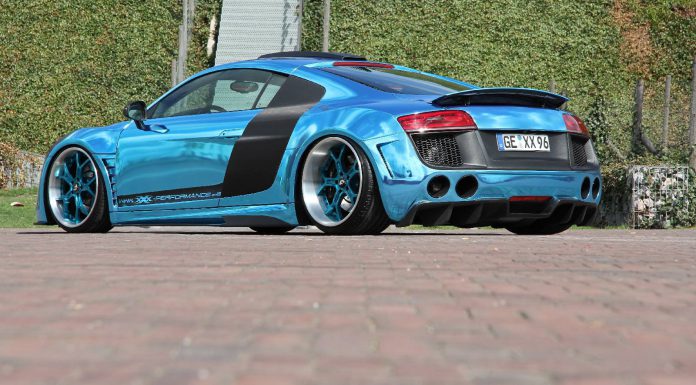 The exhaust system can be loud as well as soft depending on the choice of the driver which he depicts using a valve control system. The interior will feature leather in carbon nature; interior parts are finished in alcantara. XXX-Performance says that this makeover is available for different cars such as the Lamborghini Gallardo and Bentley Continental GT.