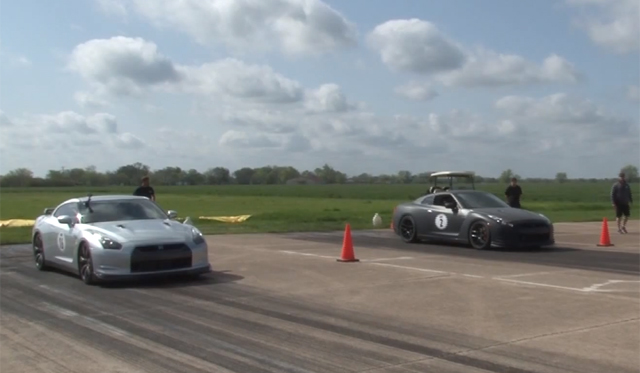 At the Texas Invitational drag racing recently, two slightly modified Nissan GT-R's lined up together for one epic drag race down the empty runway.
While the Texas Invitational has made a name for itself as being a rolling-drag race event with some of the most highly-modified supercars on the planet racing each other, the following race is without a doubt as close as drag races come as the two Japanese supercars fight for the lead the whole way down the runway.
In one corner we have the silver Nissan GT-R which has been tuned to produce around 600hp and 650lb-ft of torque. In the opposing corner is a matte black Nissan GT-R without the stock rear wing and developing around 650hp.
Both are powered by the same 3.8-liter twin-turbo V6 engine found in the standard Nissan GT-R. This easily-tuneable engine is then mated to a 6-speed semi-automatic dual-clutch transmission powering all four wheels. For the first four years of the Nissan GT-R's production, this engine produced around 485hp, and for the 2012-specification Nissan GT-R that was increased dramatically to 530hp. The present Nissan GT-R model now produces in the region of 545hp and 550hp depending on where the car is sold and purchased.
Either way, the latest Nissan GT-R models can hit 62mph in well under 3 seconds, with these two inevitably being even faster!