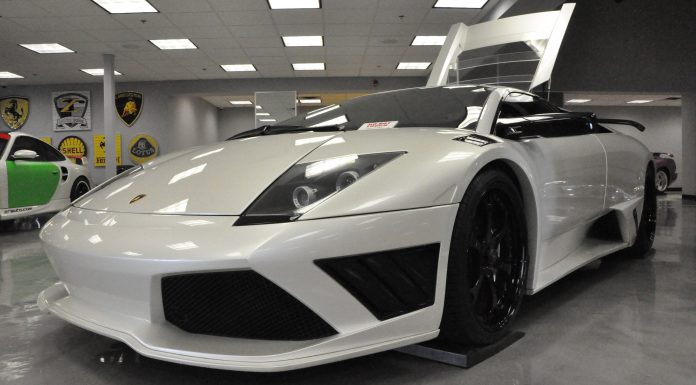 ZR Auto is Western Canada's premiere high-end automotive detailing, tuning and lifestyle company. Recently, owner Zahir Rana decided to move his growing business out of his old shop and make the move to something a bit more state-of-the-art. With the move now complete, and the tuning centre and showroom up and running, we got an exclusive tour of the facility. ZR Auto's new shop is incredible. Where the old location only allowed four vehicles to be worked on at a time, the new shop has room for ten. This includes ZR's new auto-styling service, which involves wrapping cars in extremely unique colours.
Upon walking into ZR's brand new showroom, one is greeted by the sight of modified automotive greatness. From Zahir's Novitec-Rosso Ferrari 360 to a client's newly re-modified Heffner Performance Lamborghini Murcielago, the stunning cars are around every corner. The showroom is very cleanly designed, and there is plenty of room to walk around and admire ZR Auto's attention to detail and client-oriented business model.
Upstairs a lounge is being constructed for clients to relax and talk to one another about everything from business to their passion for the automobile. That's the beauty of ZR Auto; it's not just a shop, it's a lifestyle. Every year Zahir puts on road trips where they take their clients on epic adventres around North America. This summer, the plan is to offer clients the chance to tour Canada's Yukon Territory and Alaska, a 10-day adventure that is sure to strike awe into every participant of this ZR Adventure.
The cars in the ZR Auto showroom are unbelievable. The first car that you see when you walk through the doors is Zahir Rana's 1970 Mini, a car with a story of its own. Zahir's journey into the automotive industry began in England where he took automotive studies at Walthamstow Technical College. During his time in England, he purchased the Mini and turned it into a race car. $100,000 later, his one-of-a-kind Mini boasts a custom fiberglass bodykit, a custom-tuned 400hp 1.8L VTEC Turbo, 19-inch wheels, space-frame body and a custom-built roll cage.
When he moved to Canada, he imported the car and drove it across the country, an adventure Zahir described as "a dream come true." Beyond the Mini, Porsche, Ferrari and Lamborghini galore. Zahir's Techart Porsche 911, a summer driver, sat strangely with a green-wrapped door. Later that say, the Porsche would be heading into the new wrap-shop to be done up entirely in matte lime green.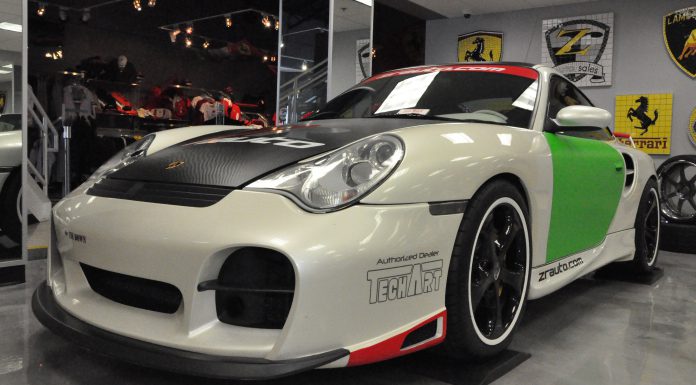 Beyond the showroom, Zahir led us into the performance tuning shop, the heart of ZR Auto. Upon entering through the employee-only entrance, the sight of ZR Auto's distinctly recognizable fleet of vehicles came into view: The recently-wrapped matte black Novitec-Rosso Ferrari F430 boasting 707hp was having its wrap removed in preparation for a new matte red wrap to be applied.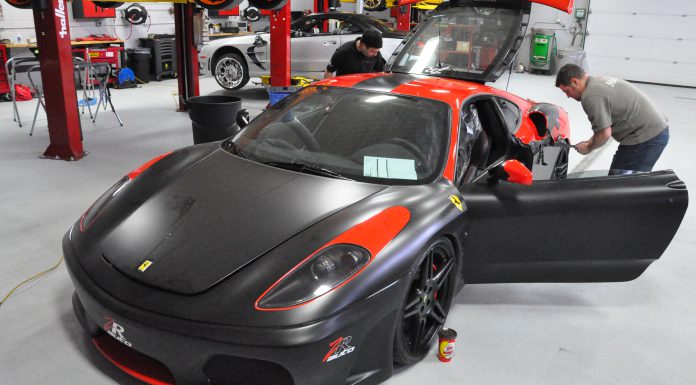 Zahir is always modifying his cars to look different. "I get bored of them," he said. "I always want to try something new that sets me and my cars apart from everyone else." Zahir seems to do that very well. In addition to his F430, the famous Ferrari F40 is currently being wrapped matte grey, his wife's gold Lamborghini Diablo is being wrapped in gold chrome, his daughter's Mercedes SL500 is being wrapped in a brushed aluminum/ matte grey combo and his 1,500hp Lamborghini Gallardo is being wrapped in solid chrome.
Zahir mentioned that he and ZR Auto will be out in full force at Targa Newfoundland this year. "This time we have a team of 12 cars heading out. We had a blast last time and we can't wait to do it again!" Zahir said he will be taking his newly-modified Ferrari FXX (dubbed the ZXX) and his chrome twin-turbo Lamborghini Gallardo. The FXX is due to return to ZR Auto in Calgary in May, 2013.