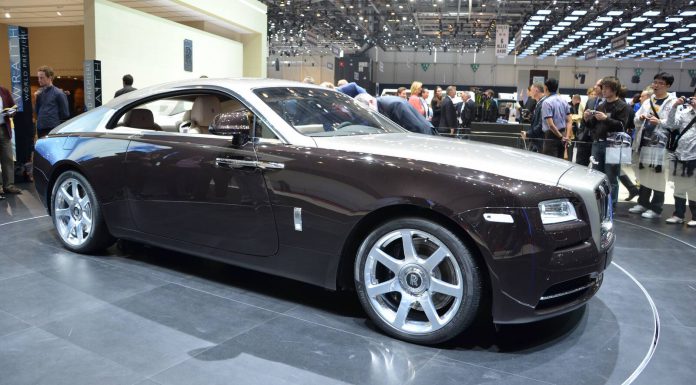 Rolls-Royce took the covers off of the much anticipated Rolls-Royce Wraith today at the Geneva Motor Show 2013. The Rolls-Royce Wraith is the fastest, most technically advance Rolls-Royce ever built. It revives a name, not used since 1939. It also revives the lost shape of the Fastback. We sent a photographer to get a closer look!
The Rolls-Royce Wraith is built using traditional methods. Instead of a modern aluminium body, the Wraith uses a steel monocoque body. The advantages are simple. First, it means that the body panels and the chassis are one and the same. It gets a double front bulkhead the insulate from engine and road noise. In total, 6,364 individual spot-welds are applied to Wraith with 900m laser welded seams.
Compared with Rolls-Royce Ghost, the rear axle is 24 mm wider, the wheelbase is 183 mm shorter and the centre of gravity nearer the road thanks to a reduction in height of 5 cm. Rolls-Royce have set the Wraith to minimise body roll, with light steering at low speeds and heavier steering at high speeds. The Wraith gets double-wishbone front suspension and multi-link rear suspension with electronic variable damping and air suspension.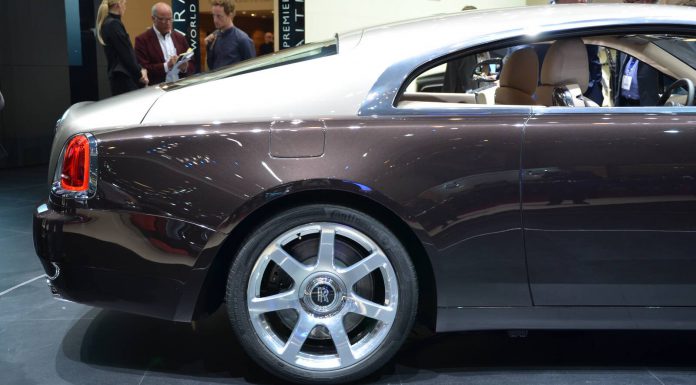 The Rolls-Royce Wraith develops 624bhp and 800Nm of torque from a 6.6 litre twin-turbo V12 with direct petrol injection. This makes it the most powerful Rolls-Royce ever! This means the Wraith will hit 62mph in just 4.6 seconds and go on to an electronically governed top speed of 155mph. The power is routed through an eight speed, automatic ZF transmission to the rear wheels.

The accelerator pedal is fitted with a feature that Rolls-Royce refer to as "multi-shift". A sensor in the accelerator recognises when the driver is fully depressing the pedal. It then moves down a few gears for optimum performance. The gearbox also makes use of a feature called "Satellite Aided Transmission" which uses GPS to determine the driver's next moves and plan for them accordingly.
For more details on the Rolls-Royce Wraith, click through the embedded link.