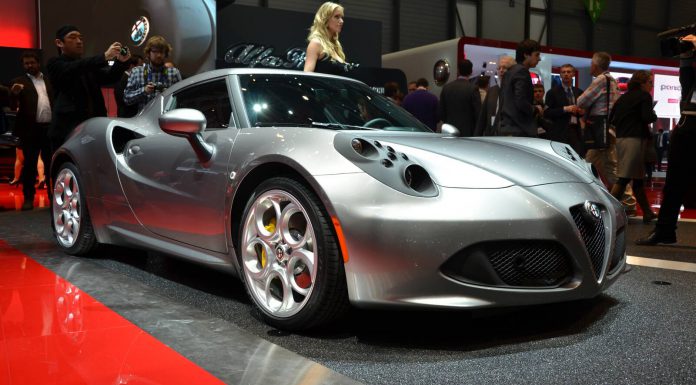 It isn't often that we feature an Alfa Romeo on our frontpage, however, the Alfa Romeo 4C unveiled at the Geneva Motor Show 2013 is an extremely exciting prospect! For starters, it will provide a stepping stone for the Italian brand's re-entry into the US market after a period of abscence. We sent a photographer to the stand to check it out!
The Alfa Romeo 4C has appeared before at the Geneva Motor Show in the form of a concept. What we see here is the actual production spec, finished product. Underneath the flowing bodywork, the Alfa Romeo 4C features a mid-engined layout and a carbon fiber monocoque chassis.
We're told that the Alfa Romeo 4C will feature a tiny 1.75 litre power plant with an extemely large 230-250hp peak output figure. Alfa Romeo have confirmed that each horsepower will be pushing only 8.8 pounds, indicating that a sub 2,100 pound curb weight could be offered.
With all the power being sent to the rear wheels, the powertrain will also feature the Fiat Group's MultiAir technology to restrict turbo lag. Expect lightweight aluminium suspension and a dual-clutch transmission, offering full automatic or semi-automatic configurations.

The Alfa Romeo 4C is likely to be one of the hottest attractions at this year's Geneva Motor Show. If you happen to attend the show, be sure to check it out. If you want further information on the Alfa Romeo 4C then follow the embedded link!