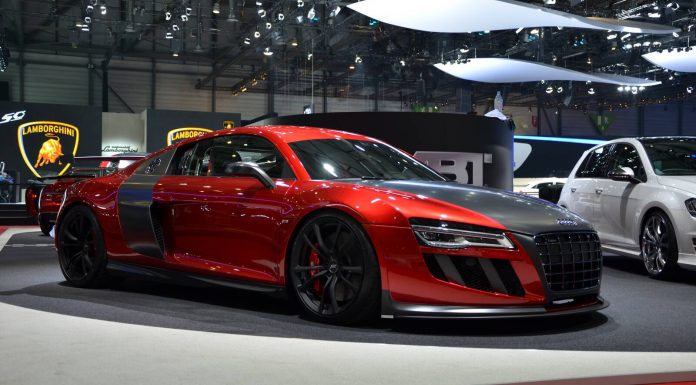 German Audi specialists, ABT have released a their ABT R8 GTR here at the Geneva Motor Show 2013. The ABT R8 GTR is based on the pre-facelift R8 V10 model. It's a complete aerodynamic package that offers extra power and improved handling. We sent a photographer to capture the car at ABT's stand.
The ABT powered V10 engine produces an impressive 620 hp, up from the 525 hp delivered by Audi R8's serial version. The ABT R8 GTR has a top speed of 325km/h while it take just 3.2 seconds to reach 100 km/h and 9.9 seconds to reach 200km/h.
The bodykit is complete carbon fibre. It does not just contribute to the design of the ABT R8 GTR, the ABT Sportsline version also weighs 100kg less. It includes a front or rear spoiler, rear wing, hatch door or bonnet, exterior mirrors, door panels and rear tearoff edge. Whats more, the front splitter is adjustable.

The interior can cater for the customer's own choice of design. ABT will be displaying the ABT R8 GTR for the entire duration of the Geneva Motor Show. If you are coming, be sure to check it out. If you want more information on the ABT R8 GTR then feel free to click the embedded link!