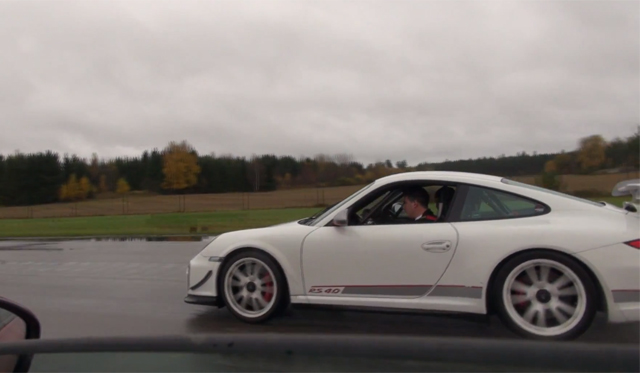 The Porsche 911 GT3 RS 4.0 has won multiple awards in its fairly short life, including being named Evo Magazine's Car of the Year in 2011.
The BMW M6 on the other hand has almost always been considered as a cross between a supercar and a true GT-car and with the updated F12 model now producing well over 550hp, it's also more than capable of competing with some of the fastest supercars on the planet, and that includes the Porsche 911 GT3 RS 4.0.
Even though the GT3 RS 4.0 would dominate the BMW F12 M6 on every racetrack around the world, it's much less powerful 4.0-liter flat-six engine delivers just 493hp and 460Nm of torque and this horsepower and torque deficit is clearly shown in the following drag race between it and a BMW F12 M6.
Putting aside the fact that the race was conducted in the wet, which inevitably helped the heavier BMW F12 M6, the Porsche 911 GT3 RS 4.0 simply can't compete with the larger displacement V8 engine of the BMW F12 M6 and as a result it easily runs away with the win.
Nevertheless, this is still a video certainly worth watching!