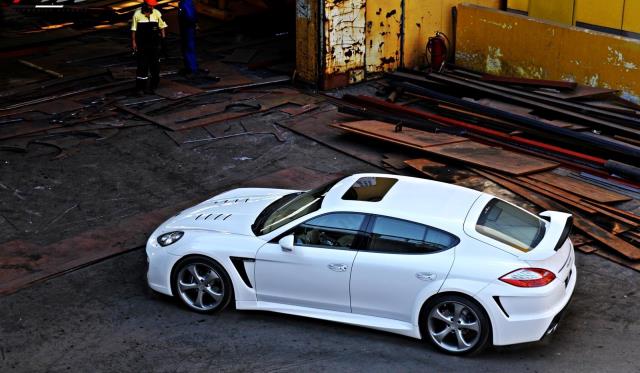 Turkish tuning company F355 Automotive Technic recently completed a project based upon a Porsche Panamera. The car is now fitted with the TechArt GrandGT aerodynamic kit. The unique kit is constructed from a fiber-reinforced composite based on carbon, glass-fiber-reinforced plastic and polyurethane RIM components which are primarily used in motor sports.
The front bumper with integrated splitter and large ventilation intakes ensure an improved supply of fresh air to the intercooler and optimum cooling of the brake system. The Panamera is also fitted with side skirts and flared fenders that increase the width by 21mm on each side of the front axle compared to the standard vehicle and 42mm on each side of the rear axle.
The customer in this instance opted for the classic five-spoke TechArt Formula light alloy wheels which are also part of the GrandGT kit. The interior includes various options, among them being the entertainment package with two seamlessly integrated 7-inch screens mounted into the front seat backrests.