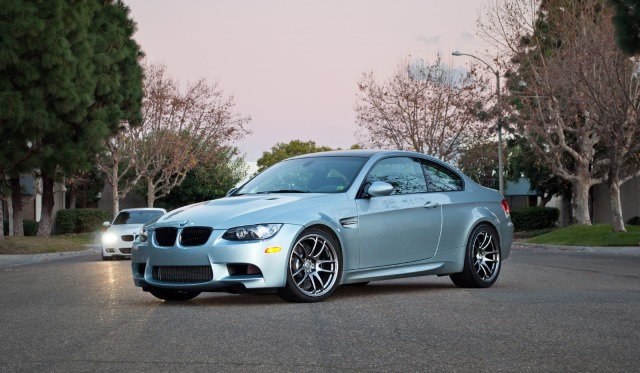 M3Post member Babu took his 2013 Silverstone BMW M3 for an ESS VT2-625 Supercharger fitment at the European Auto Source shop. The result is every bit as awesome as you would expect!
This particular M3 features a self-contained Vortech V3 supercharger unit in Si trim, capable of producing up to 775hp. The supercharger system includes a redesigned ESS MSS60 engine control software, perfectly calibrated for the supercharged engine providing optimum ignition timing under all conditions, recalibrated EGas for quicker throttle response, recalibrated VANOS control and perfectly optimized fuel delivery supplied by 8 larger Bosch Motorsport injectors.
The wheels were treated to the latest series offered by Work Wheels, the Work Emotion CR Ultimate in GT Silver finish. They measure sizes of 19×9.5 inches ET25 up front and 19×10.5 ET22 inches in the rear with work centercaps. The set is then entirely wrapped in Yokohama tyres measuring 265/30/19 up front and 295/30/19 at the rear.
When the M3 came in, it was strapped to the dyno, recording a 363whp figure and 265lb-ft of torque. As soon as the ESS VT2-625 system was installed, the new numbers read 551whp and 368lb-ft torque, showing a 188whp gain. The exhaust was stock and engine was running on 91 octane fuel, expect an even larger amount of power if the M3 receives say an Akrapovic exhaust system.