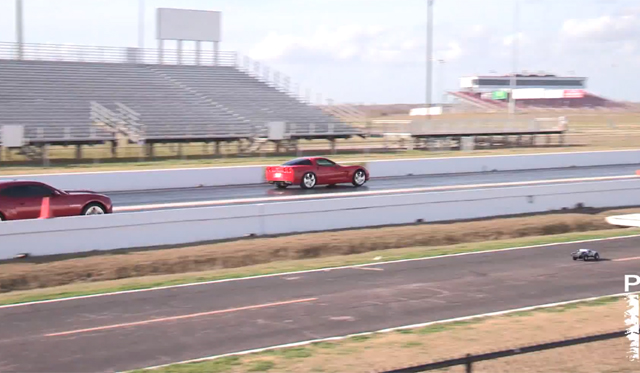 RC car manufacturer, Traxxas has done it again, with their brand new Slash RC car owner by YouTube user hightechcorvette being showcased drag racing full-size dragsters and surprisingly, the little RC car can actually keep pace with real cars for much of the quarter mile drag race.
In the following compilation video, the Slash RC car has been showcased drag racing cars such as the Mitsubishi Lancer Evolution, Chevrolet Corvette Z06, a number of Chevrolet Camaro's as well as a couple of Cadillac CTS'V's.
Now, no matter how fast an RC car is, it'll never have a top speed faster than any regular production supercar. One thing it does have going for it is its electric drivetrain and tiny curb weight, which results in acceleration which is difficult to be beaten.
Even though the Slash RC car may not win the races you're about to see, as most cars catch up by the 330-foot mark, it's very exciting to see just how far the humble RC car has gone!