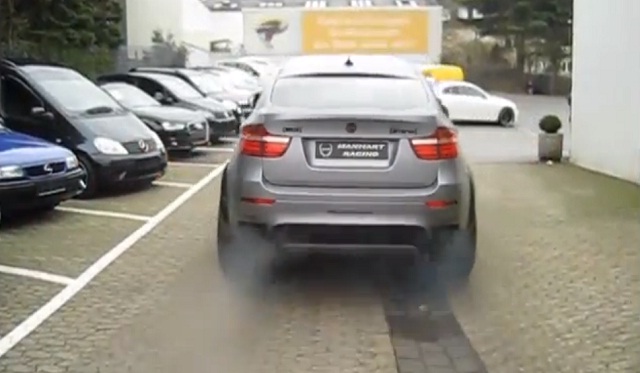 Manhart Racing are well known for their awesome (and unique) brand of BMW surgery. Often, the by-product is an equally awesome soundtrack. The Manhart MHX6 Dirt Edition is no different!
We first saw the Manhart MHX6 Dirt Edition at Essen this year. The X6 has always been a bit of an odd-ball. Manhart Racing have definitely given it an identity with the MHX6 Dirt Edition. Its based on the 2012 BMW xDrive50i. Manhart add a stage 1 performance upgrade lifting power to 500hp and 720Nm of torque, an increase of around 100hp and 120Nm of torque.
What makes the fantastic rumble is the Manhart Racing 'Race' silencer. Finally, the car receives a suspension lift and a set of wheel arch extensions. The car is wrapped with a US Army style design and finished with a set of MHR06 wheels, built by ADV.1 Wheels.
Enjoy the video and don't forget to turn up your speakers!