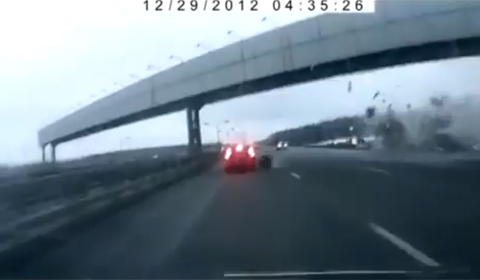 Four crew members of a Russian-made Tu-204 jet have been killed when the largely empty passenger jet broke up after overshooting its Moscow runway and all of it was caught on camera.
The video has gone viral all across the net and has been aired on various TV networks around the world with the dash mounted camera clearly showing the devastation that follows once the plane can be seen ploughing into the ground just next to the highway.
Flying debris can then be seen spewing onto the highway, with a large airplane wheel slamming into the side of a car, while the camera car was also knocked around in the incident.
http://www.youtube.com/watch?v=TIEwIa-9fXE
The Tu-204 plane was carrying eight crew members home from the Czech Republic and although no official investigative findings have been gathered, it's speculated that the pilots were at fault for the crash.