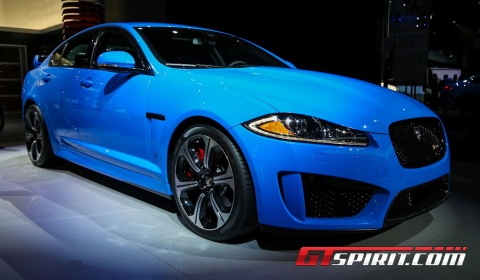 British car maker has pulled the wraps off their new 2013 Jaguar XFR-S at the Los Angeles Auto Show. Painted in a blue color trim, called French Racing Blue, the XFR-S deliveres 550hp and 680Nm from its 5.0 liter supercharged V8 engine. This is 40hp and 55Nm higher than the XFR.
The engine output is similar to the specs of the XKR-S. A sprint from naught to 100km/h is done in 4.6 seconds and the top speed is 300km/h. A new exhaust system improves the sound track of the fastest and most powerful sedan Jaguar has ever produced.
The aggressive body kit delivers 68 percent more downforce and features a new front fascia, revised side skirts, a new rear diffuser and a massive rear wing. Each of these parts uses some sort of carbon fiber trim. The interior materials include carbon leather and contrasting highlight micro-piping and stitching.
The XFR-S is built in limited numbers and available in French Racing Blue, Ultimate Black, Stratus Gray, Polaris White and Italian Racing Red. The US will have 100 for the 2014 model year. The amount for Europe is unknown at this stage. The pricing in the US will be $99,000.
For more information on the new Jaguar XFR-S check our official story right here!
[Photos by Effspot Photography]