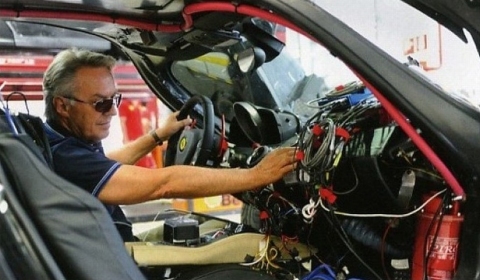 The constant flow of new information about the Ferrari F70 continues today with a new series of photos providing a look inside the new Enzo successor. The new pictures follow after an earlier release some weeks ago showing the engine compartment and an official release of the carbon fiber monocoque in Paris.
The mid-engine two-seater supercar will have a more fuel economic setup including a Formula 1-style KERS hybrid system. The total performance of the 7.3 liter V12 engine will be around 900hp, which means the F70 will have the highest horsepower of any street-legal Ferrari ever made.
At the Paris Motor Show, Ferrari displayed the F70's chassis for the first time. The new monocoque is cutting edge technology. It is said to be 20 percent lighter and but 27 percent stiffer than the Enzo's chassis. A nomex honeycomb structure has been used which is sandwiched between two layers of hi-grade carbon fiber. Ferrari fitted a Kevlar protective plate on to the underside of the body, which protects components placed below the monocoque. The Ferrari F70 will feature a total weight of 1,365kg.
The new Ferrari hypercar will not be released at the Detroit Motor Show in January, but at the Geneva Motor Show 2013 where it will have a hypercar battle for publicity with the upcoming production model of the new McLaren P1.
[Via Ultimissime Auto]