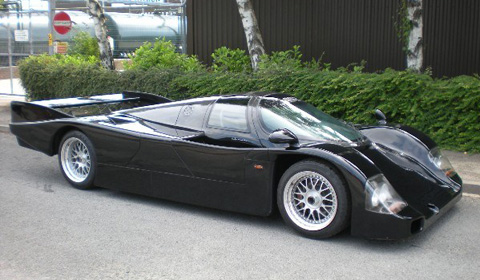 It's the most successful racing car made by Porsche. The Porsche 962 has dominated the 24 Hours of Le Mans, the 24 Hours of Daytona, the World Sportscar Championship, the IMSA GT Championship, and much more. Many thought that a car that performed so well on the track, would be the ideal supercar for the road.
A number of Porsche 962s were converted for road use, examples are the Dauer 962, the Schuppan 962CR, and the Switec-Porsche 962C. Perhaps even more remarkable is the street-legal Porsche 962C which is being used as an everyday car in Japan. But now there is another opportunity to experience the successful and relatively practical supercar yourself. A street-legal Porsche 962 is being offered for sale in the United Kingdom.
The Porsche 962 Derek Bell Signature Edition is another road-going version of the Le Mans winning car. Derek Bell has won Le Mans five times, Daytona three times and the World Sportscar Championship twice. The British racing driver put his name to the car which was planned to be manufactured in greater numbers. The inside of the door shut bears a copy of his signature and the build number 00.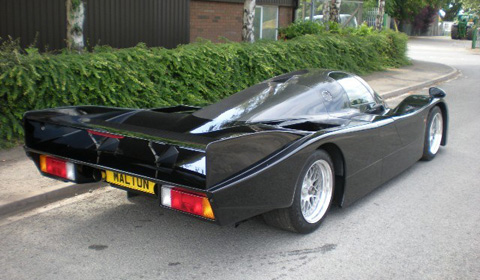 Because the original engine wasn't very suitable for road use the car is fitted with a twin turbo engine derived from the Porsche 993 GT2, which provides 580bhp and 741Nm of torque. Its weight is only 830kg, which gives an impressive power-to-weight ratio of 700bhp per tonne, more than the McLaren F1 (550bhp per tonne) or the Bugatti Veyron Super Sport (644bhp per tonne). The 120 liter fuel tank guarantees a reasonable range (and a happy owner of your local petrol filling station).
The Derek Bell 962 is equipped with adjustable suspension with hydraulic adjustable ride height, which allows the car to pass over speed bumps and other roadway obstacles. For stopping power it relies on Brembo brakes measuring 350mm.
The car is based around an aluminium monocoque with integral rollcage, combined with a full carbon fiber long tailed body. The inside features two leather bucket seats, an airco, parking sensors, and an intercom system for driver and passenger. Stepping inside is easy thanks to a removable steering wheel. For track use the car features air jacks, a fire extinguisher and towing straps front and rear.
This unique Porsche 962 Derek Bell Signature Edition was built at a cost of around $2 million USD, but is now being offered for a relative bargain of £324,995. For more information visit the website of Specialist Cars of Malton.