It's arguably one of the fastest and most exclusive cars in the world, and it's now being offered for sale: the first ever built Schuppan 962R.
The Schuppan 926CR entered the market at the end of the so-called supercar boom of the late eighties and early nineties. This fruitful period started with cars as the Ferrari F40 and Porsche 959, and eventually resulted in the mighty McLaren F1. But in the shadow of the big manufacturers some small privateers were working of their interpretation of the ultimate supercar as well.
Australian racing driver Vern Schuppan has been quite successful in sports car racing. Together with Hurley Haywood and Al Holbert he had driven a Porsche 956 to victory in the 1983 edition of the 24 Hours of Le Mans. In 1989 he entered Le Mans with a Porsche 962 prepared by his own racing team, Team Schuppan.
The Porsche 962 was a sports-prototype racing car which was introduced at the end of 1984. Over the next decade the 962 became the most successful sports car in history. The end of the car's competition life converged with the supercar boom of the nineties, so a number of privateer teams and tuners began converting 962s for road use, among them Schuppan.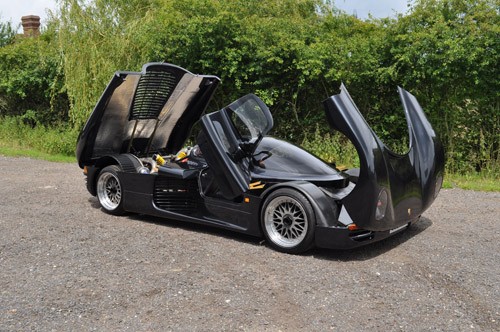 With some help of Japanese investors, Schuppan was able to create his interpretation of the ultimate supercar based on the Porsche 962. The chassis and carbon-fibre body were entirely rebuilt, but the engine remained the 3.3 liter twin turbo flat-six which was used in the North American IMSA GT Championship.
The air-cooled Porsche engine provided around 600 horsepower and 650Nm of torque, which was transferred to the rear wheels via a five-speed manual transmission. With a top speed of 370km/h (230mph) and an acceleration from standstill to 100km/h in 3.5 seconds, the street-legal Schuppan 962CR was one of the fastest cars on the market.
With a price tag of $1.5 million it was also on of the most expensive cars on the market. By comparison, the McLaren F1 had a price tag of around $970,000. To make matters even worse, the world economy stagnated and the supercar boom came to an end, leaving Schuppan bankrupt after only five or six of these street-legal racing cars were completed.
The first built Schuppan 962CR is being offered for sale via Coys in the United Kingdom. The advertisement states: "Chassis number one, is arguably the purest of supercars and must be amongst to be the rarest of any road going supercar ever produced." Click here for more information about this unique and remarkable car.