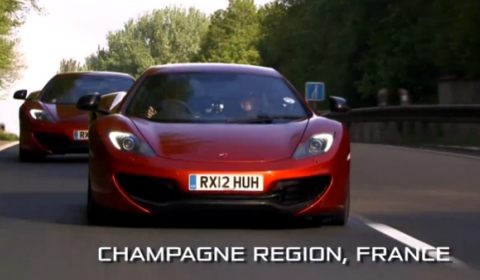 Three days, 1,800 kilometers, ten journalists participating in a wonderful road trip from the McLaren Technology Centre to Monte Carlo. The trip covered four countries and various conditions and roads while driving the McLaren MP4-12C.
Starting at McLaren's Woking HQ the route featured a special pitstop, the historic Reims-Gueux race circuit where Bruce won a special Grand Prix in 1962. The final destination was Monte Carlo, 50 years after Bruce had his first win at the world famous street circuit.
Just to recap on the 2012 McLaren MP4-12C. It has a 3.8 liter V8 bi-turbo aluminum with variable valve timing and 600hp. The maximum torque is 600Nm between 3,000-7,000rpm. With only 1,336kg its lightness makes it stand out against the competition, such as the Ferrari 458 Italia. A sprint from 0 to 100km/h is completed in just 3.3 seconds and 200km/h takes just 9.1 seconds from zero. The top speed is 330km/h.