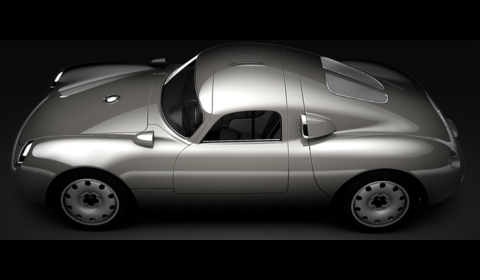 The Vintech 550 tribute project is the latest car project from France. The modern interpretation of the historical Porsche 550 Spyder will be unveiled on August 17 at Pebble Beach.
The project arose from the common admiration shared by the shareholders of Group D3 for Porsche 550 1953 chassis n°001 and their will to pay tribute to this vehicle through a stylistic reinterpretation. The project had to be realized with the best materials and the best technology of the 21st Century.
The company did not intend to simply fabricate a replica of the original Porsche 550 coupe design. What they wanted to do was to keep as much of the character of the original vehicle while accepting to make the compromises in order to fabricate a functional vehicle that could be used according to more modern standards.
The Vintech P550 Tribute features a new chassis and full carbon fiber body. The powerplant is a flat-four 3.0 liter engine mated with a five-speed manual gearbox and producing up to 270hp. The total weight of the car is expected to be around 550kg, providing an excellent power-to-weight ratio.
The result is visible in the pictures and will officially show its face at Pebble Beach in less than a week.