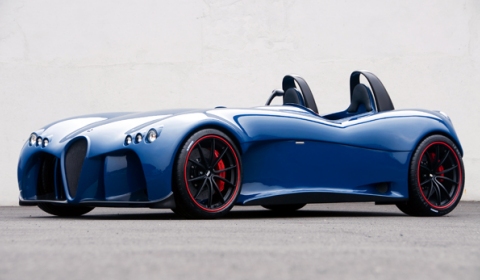 Wiesmann presented the Spyder Concept at the 2011 Geneva Motor Show. The two-seater without doors and a windscreen is the most extreme Wiesmann ever built. But will the Spyder ever enter production?
The Wiesmann Spyder Concept weighs less than 1,000kg and is powered by a 4.0 liter BMW V8 engine which puts out 420 horsepower. This enables the Spyder to propel itself to 100km/h from standstill in less than 4 seconds and to hit a top speed of 290km/h.
The Spyder is a design study made upon request by some customers who would love to see Wiesmann producing a car for purists. The German car maker received a lot of positive response following its unveiling in Geneva, but one year after its unveiling a decision hasn't made regarding production of the Spyder ‒ but it hasn't been ruled out either.
Nevertheless chances are slim we will see a production version of the Spyder soon because the lifespan of the Wiesmann Roadster MF3 has ended after 18 years. Considering the fact Wiesmann is a small manufacturer, its sounds reasonable that working a successor to the company's smallest and most successful model has a bigger priority.
Details of the successor to Roadster MF3 is are scarce, but the new roadster won't come before 2014. Perhaps this model could spawn an extreme variant without doors and a windscreen, otherwise I wouldn't have high hopes for a production version of the Spyder the coming years. Let's hope I'm wrong.
[Via Autovisie and Carpassion]