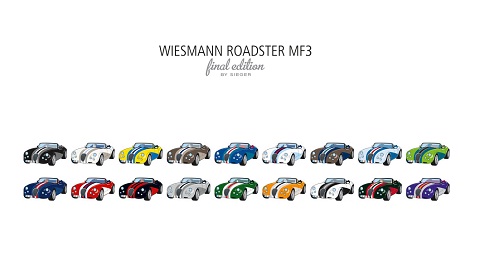 The 18-year-old Wiesmann Roadster MF3 is about to end its production lifespan. The last models with the high-torque in-line six-cylinder engines are currently under production at the Dülmen workshop. However, these last 18 cars will be a bit special. Working with Sieger, Wiesmann have created 18 unique and individually memorable cars to celebrate.
For 18 years, the Roadster MF3 has been in production and only a handful of changes have been made. It uses a lightweight body and a high-torque in-line six-cylinder engine producing 343hp supplied by BMW. As managing director, Friedhelm Wiesmann explains;
Our basic idea was to create an amazing design that would make the last cars even more desirable and valuable. Sieger is known the world over as a premium brand, and its designs have earned it international attention and admiration. It is the ideal company to match our ambition to combine beauty and technical perfection as one.
The 18 special-edition cars all differ from each other while retaining an unmistakable similarity. Each car has a distinctive set of stripes down the middle and each one has its own individual name. You can check out each single model via a special webpage.
The final edition of the Wiesmann Roadster MF3 will be at this year's Frankfurt Motor Show from 13-25 September, on display at stand B26 in hall 5. We will be at the show to bring you all the details.