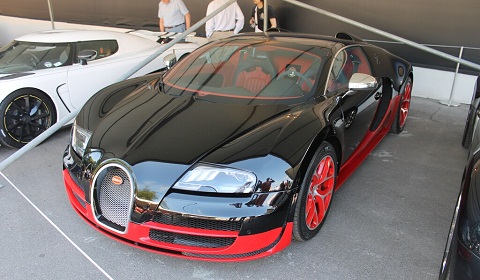 Bugatti showed the Veyron Grand Sport Vitesse at Goodwood Festival of Speed 2012. Vitesse is French for 'speed' and this certainly applies to this car.
Inspired by the record breaking Bugatti Veyron Super Sport, the Veyron Grand Sport Vitesse is powered by a 8.0 liter W16 engine featuring four enlarged turbochargers and intercoolers, which puts out an impressive 1,200 horsepower (882kW) at 6,400rpm. The peak torque of 1,500Nm is reached in between the 3,000 and 5,000rpm.

The Veyron Vitesse accelerates from standstill to 100km/h in 2.6 seconds, the 200km/h mark is hit in 7.1 seconds and 300km/h is reached in just 16 seconds. The top speed of 410km/h (255mph) makes the four-wheel drive Grand Sport Vitesse the fastest production roadster ever.