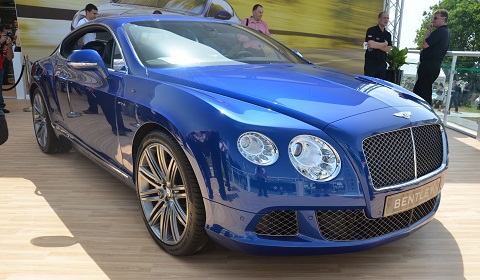 The Bentley's fastest production model ever with uprated performance, handling and interior refinements has made its official debut at the today. The new 2013 Bentley Continental GT Speed is one of the highlights of the annual car show. The new GT Speed will drive up the hill during the British event.
The luxury coupe gets the Bentley 6-liter, 48-valve, four-cam, twin turbocharged W12 engine. Power is lifted to 625hp produced at 6,000rev/min and 800Nm of torque for the Continental GT Speed. This means that the new flagship model is capable of a 329km/h top speed together with a 4.2s 0-100km/h sprint time. Permanent all-wheel drive and a Torsen differential come as standard.

The Continental GT Speed gets a new, close-ratio, ZF eight-speed automatic transmission with intelligent adaptive control software for smoother changes and a twelve percent increase in economy and CO2 emissions. Bentley also uprated the steering and suspension systems together with a lowered ride height.