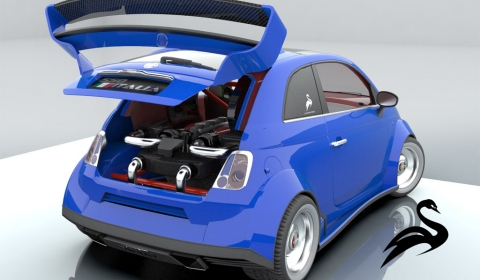 Lazzarini Design has released their special package for the Fiat 500, named the 550 Italia. The model is based on the Fiat 500 chassis and uses parts from the Ferrari 458 Italia.
The specialist rendered a body kit, which widens the small car at each side with 300mm at the rear and 200mm at the front. The original wheelbase of the Fiat 500 – 2300mm – has been increased with up to 300mm. The fuel tank has been repositioned in the front of the car, just behind the new 458 radiator. Additional ballast at the front and in the middle of the chassis brings the total weight up to 2,200lbs.
At the rear, the Italians removed the luggage compartment and seats in favor of the engine. In stead of the stock powerplant they used the 4.5 liter V8 engine used inside the Ferrari 458 Italia. The engine is slightly detuned from 570hp to 550hp, mainly because the stock performance could badly influence the balance of the car during fast shifting.
The suspension, differential and transmission were also taken from the prancing horse. A roof scope and two air intakes located just in front of the rear fenders provide an efficient cooling system for the brakes and the engine, transmission and differential.
The coloring of the V8-powered Lazzarini Design 550 Italia is a tribute to the Italian flag and the blue color refers to the Italian soccer team playing the European Cup 2012.
Lazzarini Design is looking for an investor to help build the machine. They estimate the project will cost around $550,000.