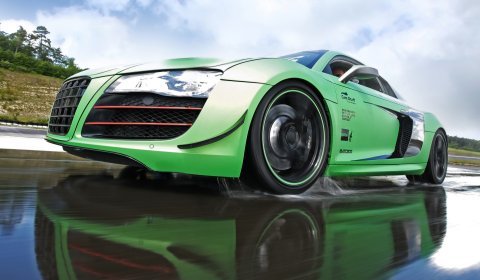 Racing One, German motor sports service provider and event organizer from Rhineland, has helped an Audi R8 V10 gaining a total of about 610 horsepower through discreet changes in hardware as well as systematic adjustment of the engine
mapping.
The running gear is equipped with two-way MDS dampers from Bilstein Motorsport. In contrast, there are brake pads by Performance Friction Brakes in place, while the in-house brake cooling can be called a borrowing from the racing circuit. A titanium, naturally flip-controlled exhaust system made by Akrapovic plays the role of communication with the outside world.
Bucket seats with six-point belts, braces in the interior and a fire extinguisher are naturally included in this new version of Audi. The stickers of the Racing One Audi R8 V10 were made at Cam Shaft Kempen, the green Porsche killer was resoled with semi-slicks.
The rebuilding cost amounts to 26,000 Euro.