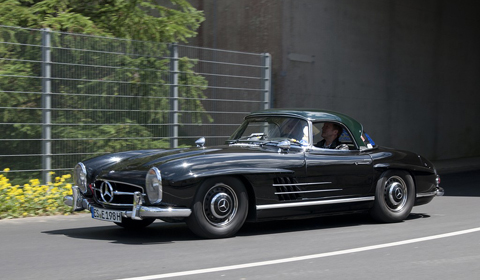 With a history dating back to 1922 the Eifelrennen is one of the most prominent motoring events in Germany. The first race was held ninety years ago in the Eifel mountain region even before the Nürburgring was built there. Nowadays the Eifelrennen is a three-day event in which mostly classic cars lap drive around the famous Nordschleife, all kind of automotive clubs and enthusiasts meet and are able to view a wide variety of cars from up close.
The program featured many classic cars, including the largest meeting ever of Veritas cars. As a sports and race car company active in the period following World War II, Veritas was responsible for Germany's first Formula 1 car. The company has built only a few dozen cars before it disappeared from the stage. At the Eifelrennen there were up to 30 Veritas present, representing a majority of the cars ever built by the almost forgotten German car maker.
Also present at the Eifelrennen was Mercedez-Benz. The Stuttgart-based brand brought to the Nürburgring a 1928 Mercedes-Benz SSK, a 220 SE (W 111), a 300 SLR and a Mercedes SLC 500 Rally. A few iconic 300 SL Gullwings visited the Nürburgring as well.
Furthermore there was a great collection of Porsche's on track, from which the ones prepared by Kremer Racing were the highlight. Also impressive were the Can-Am cars. The gallery below offers an impression of the event, the Can-Am's and Porsche's will be follow. Stay tuned for more!