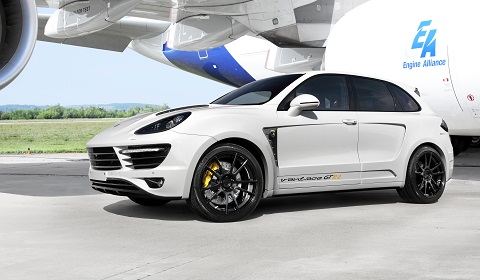 Top Car released another set of stunning images after completing Vantage GTR2 number 19 of 50. The limited edition Porsche Cayenne aerodynamic kit seems to be selling well at the moment with this white example being the latest in a line of equally impressive Cayennes. Just fifty cars will make it to the streets, each one unique to the owners individual owners tastes.
This particular car received front and rear bumpers, front and rear fenders, side skirts and new door panels to create a bespoke, carbon fiber Porsche Cayenne Turbo. The Vantage GTR2 also gets a spoiler at the back, a diffuser, a new exhaust modeled on the Carrera GT and Gemballa models and rear fender wings. Top Car deal exclusively with cosmetic upgrades and all parts are manufactured from Carbon Fiber and Kevlar.
ADV.1 Wheels, Top Car's choice wheel manufacturer fitted what looks like a set of ADV5.0 wheels. Top Car also gave it a custom interior complete with identity plaque. Black leather is accented with white piping, Top Car logos and glossy black surfaces. Plenty of carbon fibre accents have been used to replace the trim pieces normally found in the Porsche Cayenne.
The base for the project was a Porsche Cayenne Turbo which means the 4.8 litre V8 produces around 500hp and 700Nm of torque. Top speed is 172mph with a 0-100km/h time of 4.9 seconds. Top Car do offer performance upgrades, however, these are carried out externally and were not fitted to this car. The cost of this conversion is €43,421, the hood and the tailpipes are optional.
Let us know what you think of this latest conversion!