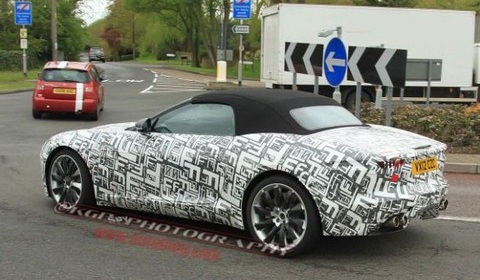 A little more than a month ago Jaguar confirmed the production of the F-Type as a 2013 model year vehicle. The reason for creating this car is the insane popularity of the C-X16 Concept that was presented during the IAA last year.
Thanks to our colleagues over at Autoblog who managed to shoot a set of spy shots we can now tell you that Jaguar already appears to be working on an hotter 'R-version' of the F-Type. Although the test car only wears the badge 'F' we can speculatively talk about an 'R' version because the car has the typical Jaguar quad exhaust pipes.
Engine details are of course not known but we believe we can expect an all new V8 that will replace the current and very powerful 5.0 liter V8 that can be found in all other Jaguar R-types. The total output can be expected somewhere around 500hp.