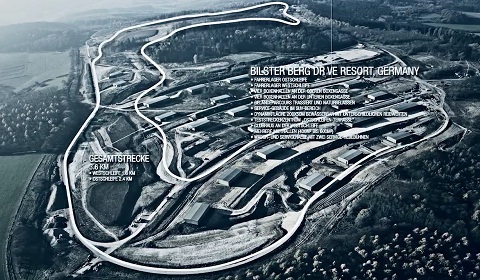 Chris Kippenberger has sent us his latest video project. We last saw Chris at work on the Maserati GranCabrio in Berlin. This time Chris has filmed the Rent4Ring Artega GT and Suzuki Swift racing up to the construction point of the new Bilster Berg resort. It's a high quality trailer filmed using Chris' unique drone filming setup.
The Bilster Berg track will function as an alternative private facility to the Nürburgring Nordschliefe. It's built on a former British/NATO ammunition depot over 84 hectares in the heart of Germany, 30 kilometers east of Paderborn. As you can see from the video, work has well and truely started. The circuit has been designed by Hermann Tilke, architect of the Abu Dhabi, Bahrain, Malaysia, Istanbul and Shanghai Formula 1 circuits. It will measure 4.2 kilometers long circuit when finished with elevations of 70 meters.
The Artega GT features a Volkswagen-sourced 3.6 liter V6 and creates an output of 300bhp at 6,600rpm and a maximum torque of 350Nm starting at 2,400rpm. It features a six-speed DSG gearbox. Only 500 are being produced a year priced at around € 75,000 ($ 100,000). This particular car can be rented for Nurburgring days for € 1,299 euros per day. For that you get 12 laps with the car.
When the resort opens later this year, Rent4Ring will be one of the first to open a new facility. As an added bonus, Chris includes a small question and answer between eGarage and Fredy Lienhard Junior of Rent4Ring.
1) Who are you? Owner and CEO of Rent4Ring – Race Car Rentals, former professional racecar driver in various series.

2) What is your experience with the Artega? It is a very exclusive mid-engine sports car. I found this car to be very well balanced and it is and feels super light. The handling is crisp, nimble and offers good drivability while being as neutral as it gets. The drivetrain is state of the art with its VR6 engine and double-clutch semi automatic gearbox. It takes a lot of stress from the driver as he can shift with paddles on the steering wheel, just like F1 cars have it.

3) How does it compare to other cars you've driven? For a low-production-number development, it is astonishing. It is more sophisticated than a Lotus, but more exclusive. Probably the best sports car in its price range. Compared to similar cars, for example the Porsche Cayman, it is much more emotional, yet not so perfect and flawless. But on the driver's seat, the feeling is just more special and exclusive. It is a head-turner.

4) Who do you believe is the kind of person that buys an Artega? People that are individualist and want to own something that not everyone has. Living in a neighborhood where 21 Porsches and 17 Ferraris are parked outside? With an Artega GT you are most likely the only one having one.