Every single year, new wannabe brands turn up at different motor shows around the world suggesting they can beat the world greatest like Porsche, Lotus, Lamborghini or Ferrari. Though most are incomplete and underfunded and never progress beyond the prototype stage, some are special and emphasize on the unique characteristics they possess. One of those brands is the German car maker Artega.
The brand was born at the IAA 2007 in Frankfurt. During the motor show the sports car brand revealed its intensions into the automotive world. The first sibling, the two-seater Artega GT, has been with us for some time now so it was time to take it for a ride, a dark grey production version to be precise.
Designed in the mid-2000s by Henrik Fisker – now Fisker Automotive and known for its designs of the BMW Z8 and Aston Martin Vantage – the sports car is now ready for mass production. The company got financial backing from the Tresalia Captial organization. After a minor stake in Artega since October 2008 it fully acquired the brand in December of 2009. For those of you who never heard about Tresalia Capital, it is known for owning a part of the Grupo Modelo, which manufactures Corona, Modelo and Pacifica beer.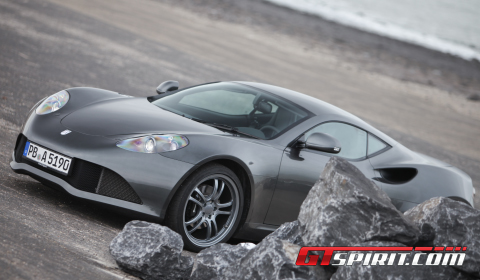 The unique looking space frame body of the Artega is composed out of aluminum in combination with high-tensile stainless steel and reinforced polyurethane compound material. To push the Artega forward the engineers chose a 3.6 liter V6 engine from Volkswagen, an engine also used in the VW Passat CC.
The 3.6 liter V6 has a cubic capacity of 3597 cubic centimeters and creates an output of 300bhp at 6,600rpm and a maximum torque of 350Nm starting at 2,400rpm. The maximum revs of the VW-engine go up to 7,500rpm. The GT jumps from standstill to 100km/h in just 4.8 seconds. Top speed exceeds 270km/h.
Quite decent figures for a sports car which finds its competitors in the range of the Lotus Evora, Porsche Cayman S, Audi TT-RS or the BMW 1 Series M-Coupe, sport cars for true drivers and cornering enthusiasts. With a proper 4.28kg/hp power-to-weight ratio the GT's compactness wins it from any of its competitors, providing a lighter and quicker setup.
The 300bhp and 350Nm of torque is converted to the rear wheels via a six-speed DSG gearbox with paddle shifter behind the steering wheels. The Artega has its own software to dictate the shift program suitable for its task. If you want more involvement, there is no other option than to choose for another brand. Artega is not offering a manual up this moment.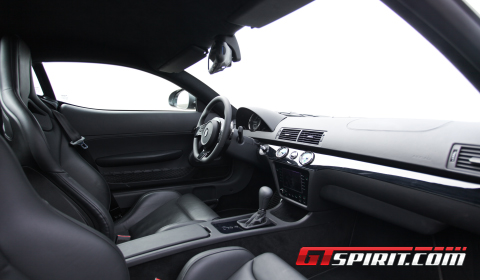 The design resembles a Lotus or Porsche in some way, but if you look closely enough you'll agree that the Artega is completely different and is a head-turner showing a wide nose with rather big headlights combined with a smaller middle section and a wide rear. Eye-catching are the two air intakes on the flanks of the car. At the rear two big exhaust pipes guarantee an engine noise that make you thrill. The exhaust sound is excellent, more like an Italian V8 than a modest German V6 from Wolfsburg, especially in higher revs.
The standard set of features includes a sports suspension, cruise control, bi-xenon headlights and a choice between four different sets of rims. There are two five-spoke rim designs and two five-double-spoke rims available. The set outfitted to our German test car combined a grey metallic finished double spoke 19 inch rim with 235/35 ZR Michelin Sport PS2 N1 tires at the front and 305/30 ZR at the back.
While the exterior dimensions might hint at a cramped cabin, the interior is quite spacious and offers two Recaro sport seats. We would even dare to say that both passengers can enjoy a comfortable ride at longer distances. The overall design of the interior is something you will either like or dislike. Somehow it leaves enough room for improvements creating an even more 'unique' setup. Too many mishaps and design flaws are still available, such as the gear lever coming from an old luxury sedan, the touchscreen multimedia system which is hardly readable in direct sunlight and the engine key resembling a similar key from another German brand in the VAG group. Surprisingly, a 2.2 inch display in the rear-view mirror is offering a navigation system, allowing the driver to pilot through unknown areas without taking his eyes off the road.
Following these minor mishaps in the two-seater, the driving characteristics were kept in our memory. The smoothness of operation and the compatibility of all the car's controls are impressive. The steering, with electric power assistance, is direct and accurate yet not deflected by bumps whatsoever. The ride is settled and unusually comfortable for a sports car. Body control is tight in fast cornering. The Artega has a nearly ideal suspension setup for normal road driving and is very close to perfection. The chassis is a friend to your driving skills. The suspension is hard and firm, but never harsh. Overall a superb handling sports car with not a single failure.
Concluding our story, we can say that the Artega GT is a rather small but comfortable sports car combining a superb handling and excellent performance not easily found elsewhere. With a price of € 75,000 or about $ 100,000 it is more expensive than many of its competitors, but there is an element of exclusivity you should take into account. In full production, only 500 Artegas are to be made a single year.
Would we take it over a Cayman S or an Evora? It is a tough decision only to be made after a decent drive test. In the end it is more of a sports car than the German from Zuffenhausen and provides better performance than the Lotus making it a winning combination, but it will have to prove itself over and over again.
Thanks to Belgian Artega importer, Jean Michel Martin.