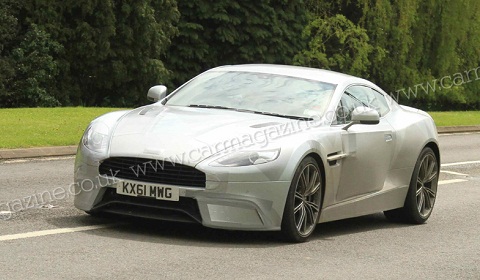 Car Magazine photographers have scooped a fresh set of spyshots revealing the 2013 Aston Martin DBS in a new colour. Now that the final Aston Martin DBS Ultimate Edition has been announced, Aston Martin's engineers will focus solely on the next-generation model. We revealed a few speculative renderings at the beginning of the month, these photos go some way to confirming them.
Firstly, you will notice the new front splitter. It uses a traditional Aston Martin grille, retaining much the same shape as the outgoing DBS but with a new splitter lifting the nose off the ground a bit more in terms of styling. As we look at the bonnet, there's a set of air vents at the top and a new set of headlights, covered at the top with camouflage. The replacement DBS will get a set of Aston Martin 'gills' covered by a long chrome stripe. The 2013 Aston Martin DBS will sit lower at the back with a prominent 'ducktail' spoiler. New rear lights may be shared with the Aston Martin One-77, the camouflage hides the entire area below the spoiler.
The Aston Martin DBS successor is being referred to internally as the 310 at the moment. Customers who already have deposits on the 310 will get an advance preview of the car tomorrow at the Nurburgring, Germany.
Under the bonnet, Aston Martin will fit the same 6.0 liter V12 as you currently find in the V12 Vantage, DBS and DB9 models. Power will be 573hp, an increase of 63hp. Expect significant weight savings thanks to lightweight construction, lower emissions ratings and increased economy figures. For the first time, the successor will get automatic windscreen wipers and a touch screen navigation system!
The 2013 Aston Martin DBS should get its official unveil at the Paris Motor Show 2012 in September. Owners should expect deliveries to start between December 2012 and January 2013. The price? Around 230,000 euros. For the full Spyshot gallery, head over to Car Magazine.