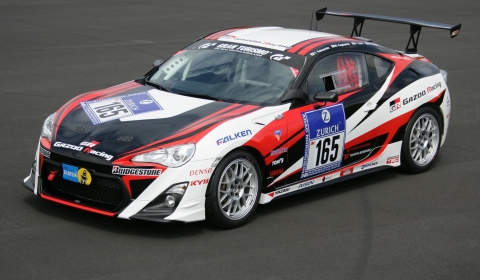 The Nürburgring has played an important role in the development of Toyota's latest sports cars. This weekend the Green Hell will see the Lexus LFA and GT86 demonstrating their race pace in the 40th running of the ADAC 24 Hours race.
Gazoo Racing will be back at the Nordschleife to field the LFA (in the SP8 class) and two new race-prepared GT86 (SP3 class). The team personnel, including technicians and drivers, will include Toyota employees from Japan.
Gazoo Racing has already kicked off its 2012 season with two shorter-distance races at the Nürburgring, in which the LFA was twice a winner in its class and the GT86 showed promising progress.
The Toyota Swiss Racing Team will also be taking part, fielding two GT86 race-prepared by Toyota Motorsport. Both will take part in the competition class (V3) for production models.
We wish the teams good luck in achieving a great result.