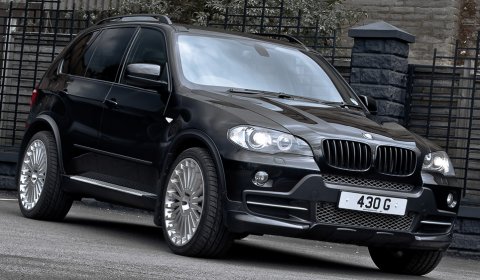 Afzal Kahn's latest release features the new BMW X5 5S 3.OD by A. Kahn Design, the first BMW the UK tuner took into its workshop.
The tuner fitted a large numnber of parts on the SUV. The exterior package features new front and rear bumpers, wider wheel arches, Kahn Enamel wing shields, a Kahn Enamel tailgate logo and brake calipers finished in Liquid Red. The SUV also has privacy tinted glass.
On the technical side a sports lowered suspension and 22 inch Kahn RSL Alloy wheels in Silver Palladium finish provide a more sporty ride and complement the more aggressive exterior looks.
Inside the cabin, the UK specialist fitted a Black Alcantara sport style multifunctional steering wheel, floor mats with toughened rubber, a Kahn Silver rev counter and a Kahn speedo in red.