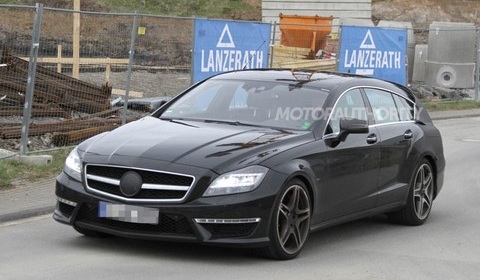 Mercedes-Benz has working on the CLS Shooting Brake for a long time, but it seems that the engineers are coming closer to a final product. After seeing spyshots of the car testing at the Nurburgring back in October last year we can now show you a new set thanks to our colleagues at Motorauthority.
The final version of the car is expected to be released at the 2012 Paris Motor Show. Expect the Mercedes-Benz CLS 63 AMG Shooting Break to appear some time afterwards. Expected three engine choices choices for the sporty estate. The CLS 350 will have a 3.5 liter V6 producing 306hp together with 272Nm of torque. Next in line will be the CLS 550 with a 4.6 liter V8 engine developing 402hp together with 443Nm of torque.
The top of the range CLS 63 AMG Shooting Brake model will definitely come with the 5.5 liter V8 engine that will have an output of around 518hp and 516Nm of torque. Expect to see the first cars in showrooms by the end of 2013.