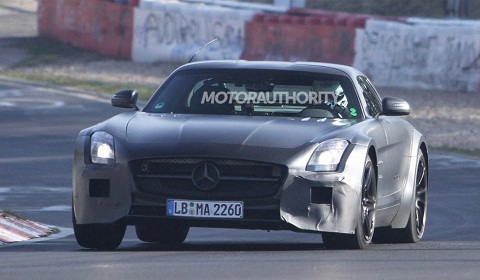 The Mercedes-Benz SLS AMG Black Series has been caught testing again at the Nurburgring. The black series will be a pumped up version of the Mercedes-Benz SLS AMG featuring more aerodynamic enhancements, more power and a higher price tag. It seems likely to get a 2013 release date, however, nobody is too sure at the moment.
The pictures reveal typical Black Series upgrades. The car is wider, lower and looks as though its spend more time in the gym! The SLS AMG Black Series will get a new front bumper, side skirts, widened wheel arches, air inlet in the hood, and other modifications. The current 6.2 liter V8 should get uprated to 650 horsepower along with a similarly uprated price tag of € 260,000 ($ 338,310).
For more pictures please visit Motor Authority.