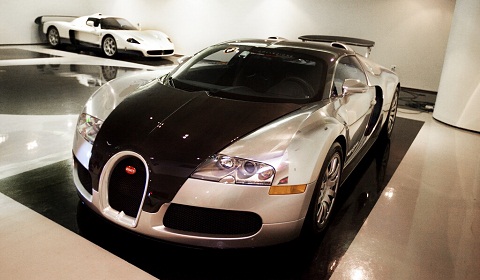 The Forza Collezione in Florida has to be one of the most impressive car storage facilities in the world. This is essentially a one-owner garage. That owner has one of the most expensive tastes, keeping a stock list of some of the most exotic cars in the world. Matt Wetzel was granted access to the cars for an extra special photoshoot.
During Matt's visit he got the opportunity to photograph a Bugatti Veyron Pur Sang, a Maserati MC12, a Ferrari Enzo, a Gemballa Mirage GT, a Koenigsegg CCXR Edition, a Ferrari F50 and a Ferrari 599 GTB! From the photos, you'll see that the cars aren't the only impressive part of Forza Collezione. Forza maintain a stunning showroom, which is off limit to the public. From what we can tell, it used to be a dealership called Luxautica.
Just by way of summary, the Bugatti Veyron in the photos is a Bugatti Veyron Pur Sang. It is number zero of five produced, the prototype model and the only one in North America. This was one of the first special edition Bugatti Veyrons. It featured a raw finish, both exposed carbon fibre and naked aluminium make this car one of the most desirable Bugatti Veyron special editions. Of course, it also W16 engine and peak power figures of 1001hp.
The Gemballa Mirage GT is not the same car crashed by Prinz Marcus. This Mirage GT features 650hp, 0–100km/h in 3,7 sec and a 335km/h top speed. It isn't the only Mirage GT in North America but one of very few. Only 25 Mirage GT's were built, far fewer actually hit the road though. Gemballa will still carry out the conversion for you on a standard Porsche Carrera GT.
The final car we want to highlight is the Koenigsegg CCXR Special Edition. This is the final variant of Koenigsegg's successful CC range, a range that has now been superseded by the Koenigsegg Agera. Only two cars made it onto the streets, each featured a visible carbon fiber and kevlar body with an unmistakeable wing. The engine delivers 806hp or 1018hp running on biofuel. The only other Koenigsegg model higher up the price list was the CCXR Trevita, limited to three and with a diamond weave carbon fibre finish.
Matt's photos are brilliant. If you want to see more, don't forget to check out Matt Wetzel Photography's Facebook page.